In the pre-computer era for both Ixonia Mutual Insurance Company and Watertown Mutual Insurance Company, the company treasurers presented a general report at regular board meetings. This was a basic report covering the credit and debits from the mutual's checking account. The treasurer then reported a complete financial picture to the directors at a year end meeting.
This tradition changed on August 24, 1983, when Ixonia Mutual's directors received their first monthly income and expense statement. This report gave a complete, up-to-date financial picture of the mutual. It accounted for all changes such as unearned premium, unpaid loss reserves, investment changes. This monthly report was generated by hand and obviously was quite time consuming.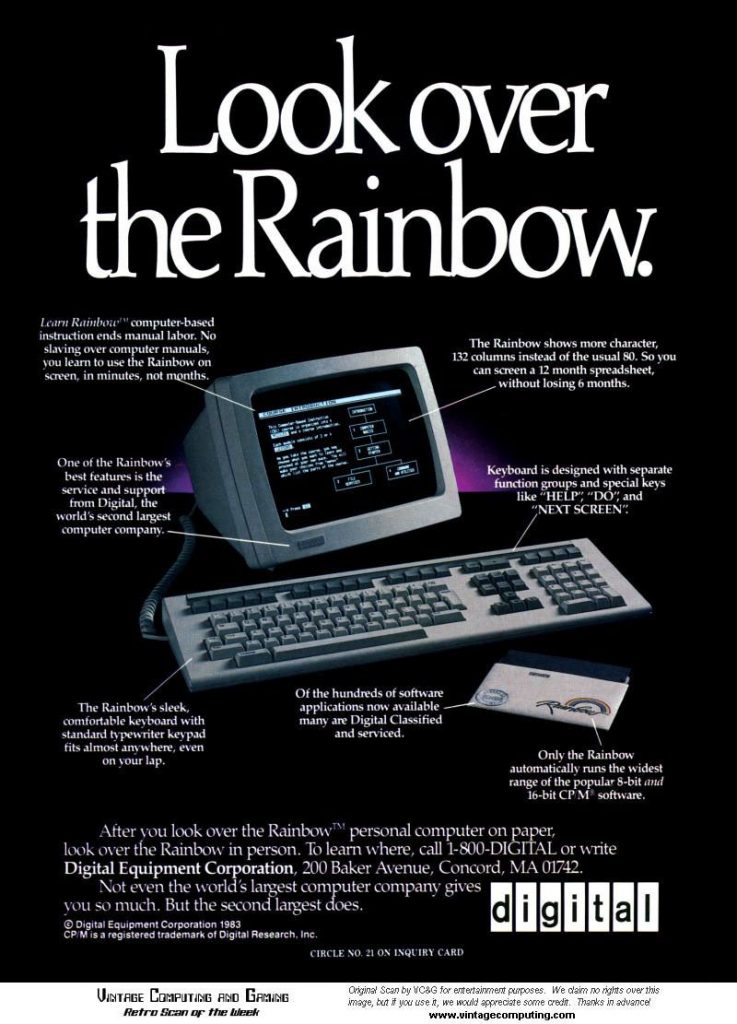 That same year when the directors met with their auditor for his year end report, he suggested they consider a computer. At their April 1984 meeting, the directors approved purchasing a Digital Rainbow computer, printer and software for the cost of $7,720. With this new computer, Ixonia Mutual's staff was able to computerize the company's accounting data with a program called AMI 1 (Automatic Mutual Insurance), which automated the mutuals financial records. Policy declarations however still had to be hand typed.
By the next year, Ixonia Mutual began using a separate software that prepared the policy declarations while still separately entering financial data into its accounting software. At this time the company converted all its policies to 1-year continued renewable policies and it discontinued fire-only policies.
In 1987 Ixonia Mutual upgraded its AMI 1 to AMI 2, which included policy and claims processing. This was a huge work savings, as it eliminated the need to add financial data in a separate action.
With the ability to process policies and manage accounting from a single program, Watertown Mutual decided to join the computerized world of insurance. They purchased their first computer in 1988.
Now today, Forward Mutual continues with an innovative mindset in its technological management. The company regularly upgrades its technology and is currently converting to its seventh policy and and accounting software system. Its policy processing and accounting systems are now web-based applications and it stores its data on the cloud.
"I foresee that possibly by year end we will no longer have a server even located in our office," says President and CEO Lois Wiedenhoeft. "Technology has created enhancements in managing data that we never dreamed of in the 1980's."
Forward Mutual does all of this with the goal of protecting its insureds. From providing online payment opportunities to policyholders to contracting Gordon Flesch to manage its cyber security, Forward works to provide the highest quality of insurance to southern Wisconsin's home and farm owners.
---
Read more!
Comparing the Capitalizing of Two Early Mutuals
Supporting Dairy in the Late 1800s
1879 Early Challenges for a Young Mutual
Ixonia Mutual's First $1000 Loss
1885 A Year of Neighbor Helping Neighbor
Taxes, War and the English Language
Supporting the Community's Fire Protection
Board Directors and Their Meetings
Standardization of Wisconsin Mutuals
Of Electricity, Radio and Foxes
Our Annual Meetings Over the Years
How a Major Disaster Affected Extended Coverage and Reinsurance
Surviving the Big Dogs in the 1960s
Introducing Agents to the Mutuals
Establishing Confidence in Financial Strength
The 1990s, Advancement and Angst
Ixonia Mutual and Watertown Mutual Merge and a New Company is Formed
Setting the Stage, Moving Forward with a New 2020 Vision