On Sunday June 12, 1881, Carl Grath had a loss by lightning and fire. The adjusting committee's report to the directors appraised the loss as follows:
Barn #1: $300
Hay, Fodder, 3 tons/$5 each: $15
Illegible Item: $174.50
Farming Tools: $100
Barn #2: $500
This loss led the directors to levee the mutual's second assessment to policies in force, this time for $1,098.50. If we converted the value of the dollar in 1881 to today's value, this claim would have been just short of $25,000.
Claims for the balance of 1881, 1882, and 1883 were few. The treasurer reported a cash balance on $58.35 at the January 1882 annual meeting.
The treasurer reported a cash deficit of $7.65 at the January 1884 annual meeting.
Unfortunately, on April 28, 1884, a fire destroyed Owen Roberts house and furniture. This led to the mutual issuing a third assessment to its policyholders for $650 on May 3, 1884.  
At the 1885 annual meeting, the mutual had a cash balance of $9.75. 
How different are the financial standings for our mutual today! At our annual meeting held in April 2020, our President/CEO Lois Wiedenhoeft reported total admitted assets of $8,779.213 for the year ending December 31, 2019.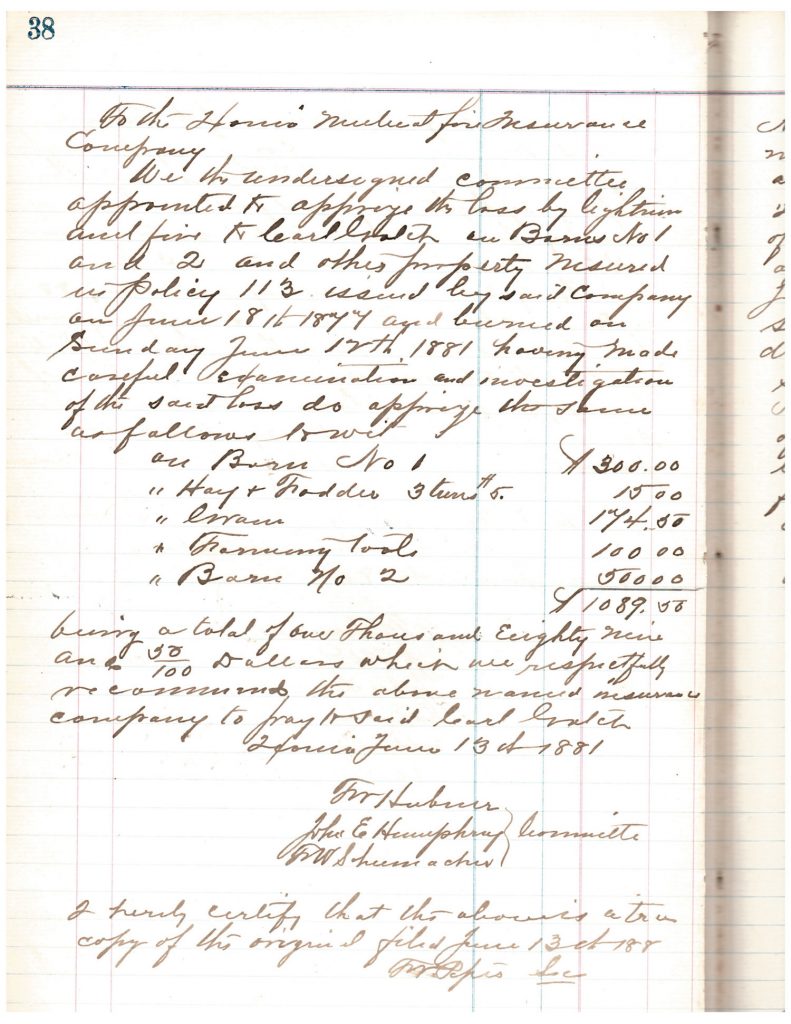 ---
Read More!
Comparing the Capitalizing of Two Early Mutuals
Supporting Dairy in the Late 1800s
1879 Early Challenges for a Young Mutual
Ixonia Mutual's First $1000 Loss
1885 A Year of Neighbor Helping Neighbor
Taxes, War and the English Language
Supporting the Community's Fire Protection
Board Directors and Their Meetings
Standardization of Wisconsin Mutuals
Of Electricity, Radio and Foxes
Our Annual Meetings Over the Years
How a Major Disaster Affected Extended Coverage and Reinsurance
Surviving the Big Dogs in the 1960s
Introducing Agents to the Mutuals
Establishing Confidence in Financial Strength
The 1990s, Advancement and Angst
Ixonia Mutual and Watertown Mutual Merge and a New Company is Formed
Setting the Stage, Moving Forward with a New 2020 Vision