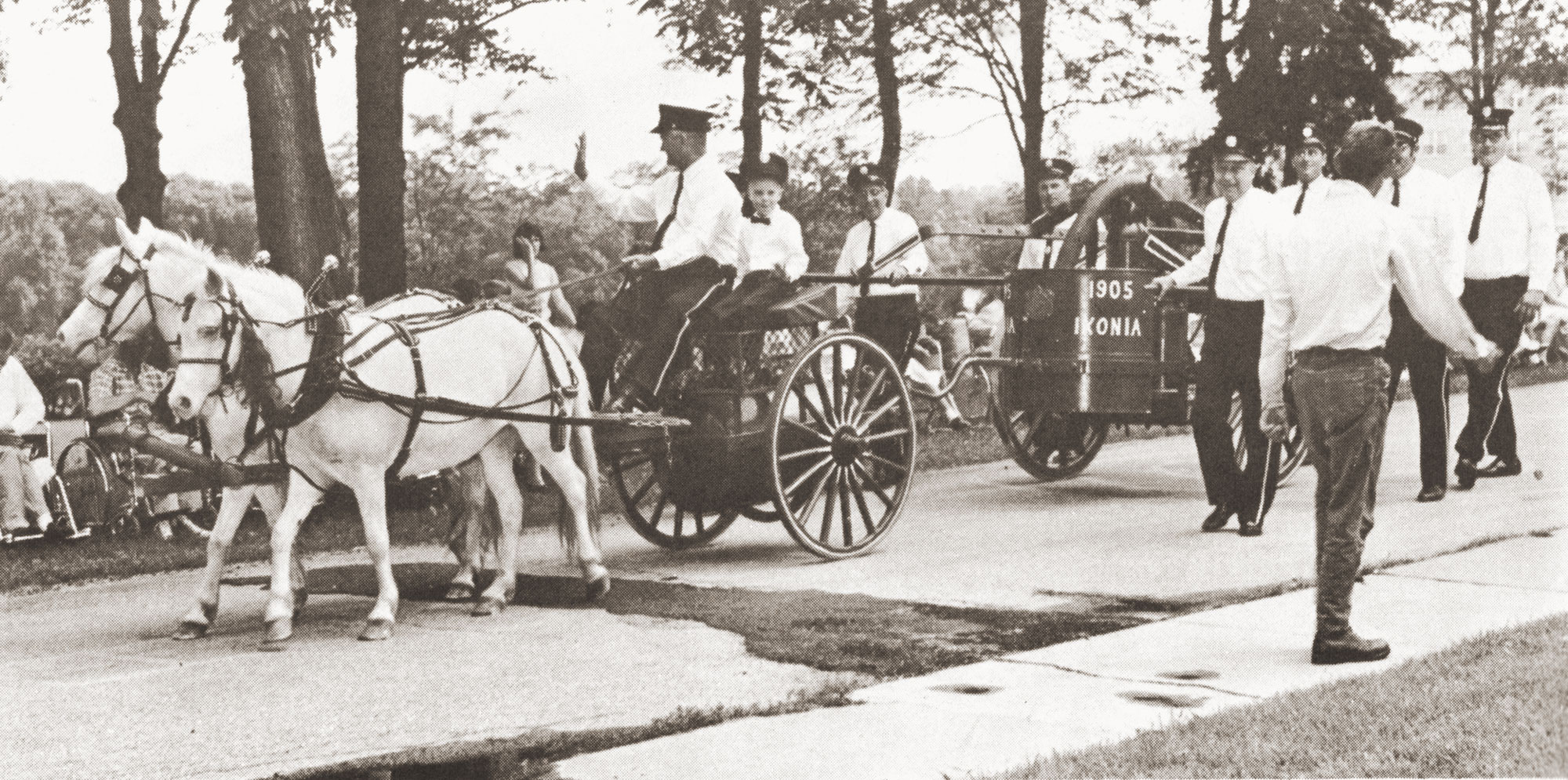 Ixonia's first hand pumper with chemical unit attached. Photo used with permission from the book Heritage of Ixonia, by Carl and Alida Jaeger.
---
By HOWARD WIEDENHOEFT
As trendy as barns have become for dance venues, the idea is hardly new. In fact, in 1923 the following resolution was passed at the Watertown Mutual Insurance Company's annual meeting:
"Whereas during the summer months many barns are used for dances and whereas such undertaking is hazardous to said barn and other nearby buildings because of the use of cigarettes and smoking in general. Be it resolved the buildings and other property on such a farm is not insured from 12 o'clock noon the day of the dance and 48 hours after."
Dances were an entertaining highlight in those days. And with the gathering of people came a recognition of the importance of fire protection. Throughout Wisconsin even small rural communities began forming fire departments, most commonly volunteer departments, and mutual insurance companies offered their support. In our area, both Ixonia Mutual and Watertown Mutual made regular donations to area fire departments. They encouraged their members to call a fire department in the occurrence of a fire, to which they paid $50 for responding.
According to the minutes, in 1925 members of Ixonia Mutual approved the purchase of a "chemical outfit for the village of Ixonia" for a cost of $374.15. This was an extinguisher made by the American LaFrance Fire Engine Company and was installed on the volunteer fire department's horse-drawn hand pump. Additionally, beginning in 1937 and for many decades after, Ixonia Mutual paid half the liability insurance for its local fire department.
Today, mutual insurance companies in Wisconsin continue to support local fire departments. Each insuring company, including Forward Mutual, participates in what's referred to as the "2% Fire Dues Program." This means it pays to the state two percent of the fire insurance premiums it receives, which is then distributed to its local fire department to offset the cost of training.
Forward Mutual is proud to support its local fire departments and is an annual participant in the National Fire Safety Council.
---
Read more!
Comparing the Capitalizing of Two Early Mutuals
Supporting Dairy in the Late 1800s
1879 Early Challenges for a Young Mutual
Ixonia Mutual's First $1000 Loss
1885 A Year of Neighbor Helping Neighbor
Taxes, War and the English Language
Supporting the Community's Fire Protection
Board Directors and Their Meetings
Standardization of Wisconsin Mutuals
Of Electricity, Radio and Foxes
Our Annual Meetings Over the Years
How a Major Disaster Affected Extended Coverage and Reinsurance
Surviving the Big Dogs in the 1960s
Introducing Agents to the Mutuals
Establishing Confidence in Financial Strength
The 1990s, Advancement and Angst
Ixonia Mutual and Watertown Mutual Merge and a New Company is Formed
Setting the Stage, Moving Forward with a New 2020 Vision