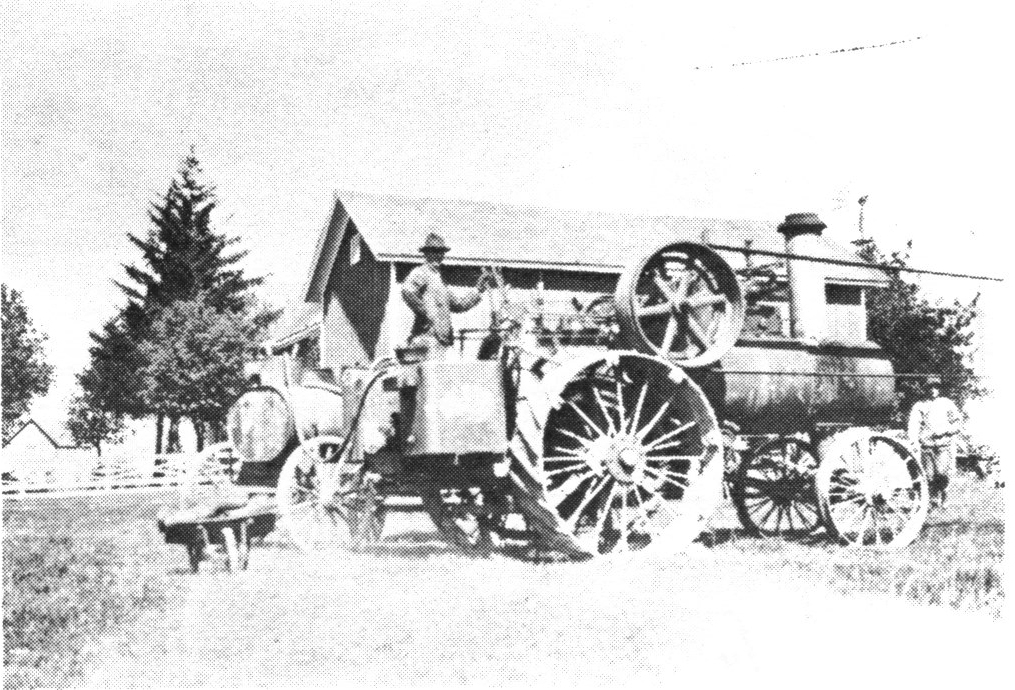 Photo used with permission from the book Heritage of Ixonia, by Carl and Alida Jaeger.
By HOWARD WIEDENHOEFT
The bylaws of any mutuals are its insurance policy and throughout the years they change to meet the times. This was true in the 19th century and the early days of Ixonia Mutual Fire Insurance Company and Watertown Mutual Fire Insurance Company, when one of the more interesting items addressed was the ownership of farm steam engines.
Even though steam engines were powerhouses of the farm, they also were a liability due to the dangers of broilers and steam pressure. The original 1875 Ixonia Mutual bylaws stated there could be no coverage of a property if a steam engine was on premise. In 1885, the mutual changes its bylaw and offered two-thirds coverage if a steam engine was on premise. In 1888, it offered full coverage. In 1896, the bylaws required two barrels of water and two pails and a 16 foot ladder be keep between the steam engine and a straw stack.
It's unsure of Watertown Mutual's early bylaws on steam engines, but in 1895 the mutual required a barrel or milk cans of water be keep close in case of fire. In 1899, they required steam engines could only burn coal and there would be no insurance on the premise if the engine burned wood.
Other changes in bylaws regarded insuring businesses. You may recall the large mill loss in 1885. Following this expensive payout for Ixonia Mutual, its board voted to discontinue insuring cheese and butter factories, wagon and blacksmith shops, and warehouses. However, in 1903 the mutual once again began insuring these risks.
Following its year of large losses, Ixonia Mutual created an adjusting committee to serve for a full a year rather than appointing individual committees for each loss. Thankfully for the mutual, this committee did not have any work until 1888, as no losses occurred in 1886 or 1887.
Customs certainly were different in those days. At its annual meetings, Ixonia Mutual read aloud the amount of insurance in force that each policyholder carried. In 1897, it was decided the insurance carried by policyholders should be printed rather than read aloud. It's unsure how long this practice continued but it was common and expected at that time.  In 1911, Wisconsin changed its laws for mutual insurance companies and members were each allowed just one vote, as opposed to one vote for each $200 of insurance inforce.
---
Read more!
Comparing the Capitalizing of Two Early Mutuals
Supporting Dairy in the Late 1800s
1879 Early Challenges for a Young Mutual
Ixonia Mutual's First $1000 Loss
1885 A Year of Neighbor Helping Neighbor
Taxes, War and the English Language
Supporting the Community's Fire Protection
Board Directors and Their Meetings
Standardization of Wisconsin Mutuals
Of Electricity, Radio and Foxes
Our Annual Meetings Over the Years
How a Major Disaster Affected Extended Coverage and Reinsurance
Surviving the Big Dogs in the 1960s
Introducing Agents to the Mutuals
Establishing Confidence in Financial Strength
The 1990s, Advancement and Angst
Ixonia Mutual and Watertown Mutual Merge and a New Company is Formed
Setting the Stage, Moving Forward with a New 2020 Vision