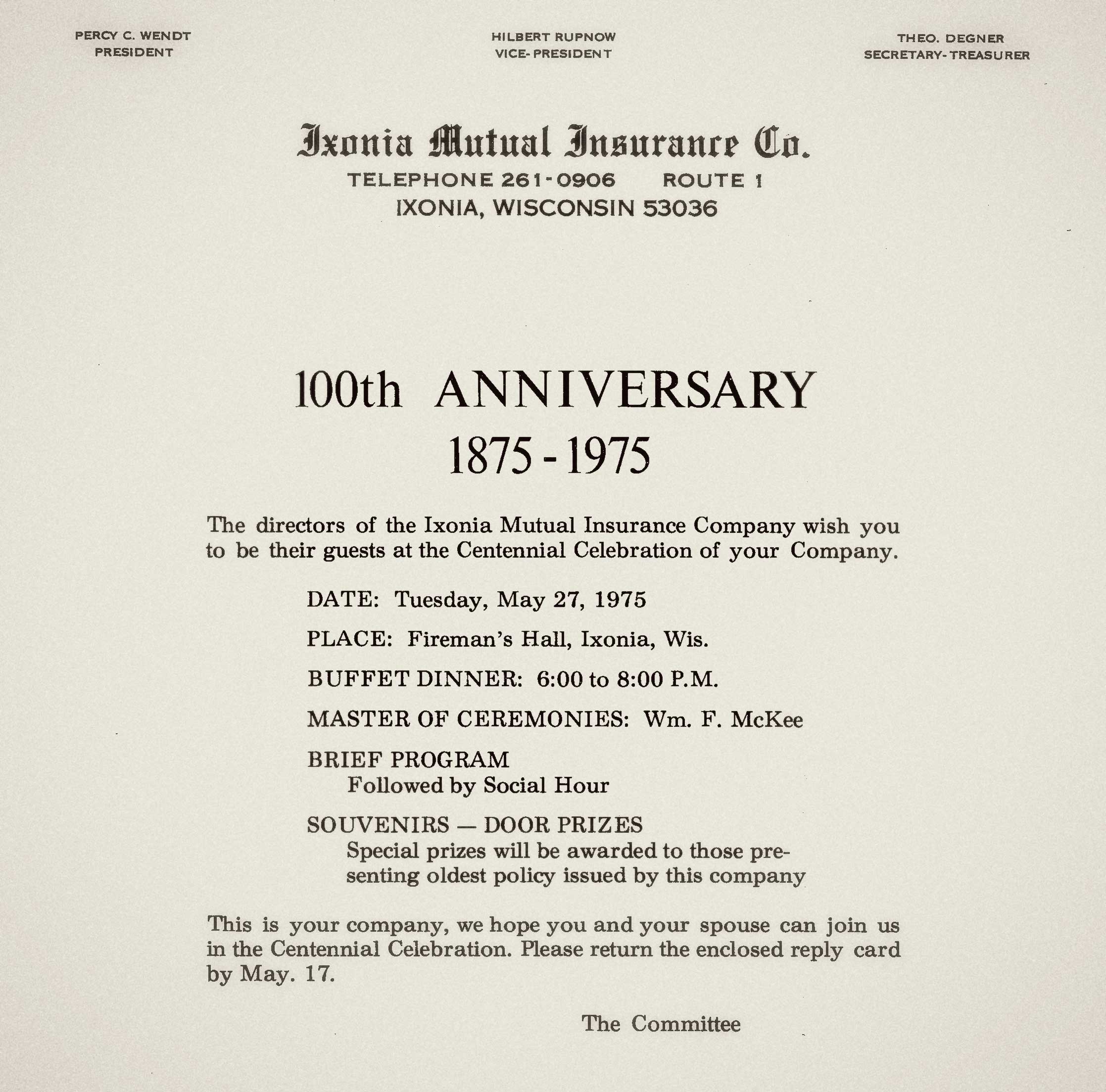 By HOWARD WIEDENHOEFT
Centennial anniversaries are always exciting news. But for small businesses such as mutual insurance companies they are monumental events. In the 1970s both our founding companies marked their 100 years with pride.
Watertown Mutual
Watertown Mutual Insurance Company held its 100th annual meeting on January 4, 1972. President Hugo Dietzel presided and Secretary Gladys Dietzel gave a brief presentation on the history of the mutual. During its 100 years, the mutual had six presidents: Christian Trachte, 1872-1891; Emil Witte, 1891-1904; Frank B Lehmann, 1904-1914; John Rettig, 1914-1921; Frank G Lehmann, 1921-1932; Theodore Lehmann, 1932-1965; and Hugo Dietzel, who began in 1965. During those years it only had five secretaries; Fredrick Buckholz, 1872-1886; Gustav Eichmann, 1886-1910; E. F. Niemann, 1910-1943; Arthur Linnes, 1943-1971; and Gladys Dietzel, who began serving in 1971.
In 1972, Watertown Mutual was insuring property in the counties of Jefferson, Dodge, Dane, and Waukesha. Its December 31, 1972 financial report showed the mutual had 1,036 policies with $32,940,842 of insurance in force. The average policy was $31,796.  The mutual had annual premium volume of $100,124 with $267,710 of assets and surplus of $269,780.
Ixonia Mutual
Three years later, Ixonia Mutual Insurance Company marked its 100 years with an annual meeting on February 12, 1975 and a Centennial Celebration on May 27, 1975. Both events were held at the Ixonia Fireman's Hall. Acknowledged as presidents during the mutual's 100 years were Fred Huebner, 1875-1902; John E Humphrey, 1902-1905; William Moran, 1905-1920; Evans C. Evans, 1920-1925; Otto Strache, 1925-1939, J.C. Kuester, 1939-1953; Alvin Timmel, 1953-1971; and Percy Wendt, who began serving in 1971. Men who served as secretary were F.V. Piper, 1875-1886 and again from 1887-1888 and 1889-1903; David Owen, 1886-1887; James McCall, 1888-1889; John Saeger, 1903-1916; Arnold Saeger, 1916-1919; R.J. Schwefel, 1919-1920; George Saeger, 1920-1934; Ernst Weege, 1934-1943; Donald Melcher, 1943-1944; John Degner, 1944-1968; and Theodore Degner, who began serving in 1968.
In 1972 Ixonia Mutual was insuring property in the Jefferson, Dodge, and Waukesha Counties. The company's December 31, 1975 financial report showed 534 policies with $28,185,100 of insurance in force. The average policy was $52,781. It had an annual premium volume of $55,991 with $386,137 of assets and surplus of $327,137.
There's an interesting comparison between the two mutuals. As you can see Watertown Mutual had very little turn over of its officers in the first 100 years, with most officers serving until their death. However, Ixonia Mutual's positions were more often contested and thus had a greater diversity of officers serving.
The founders of these mutuals would have been proud of the insurance companies they started and the service they provided to the community. Forward Mutual is honored to continue this tradition still today.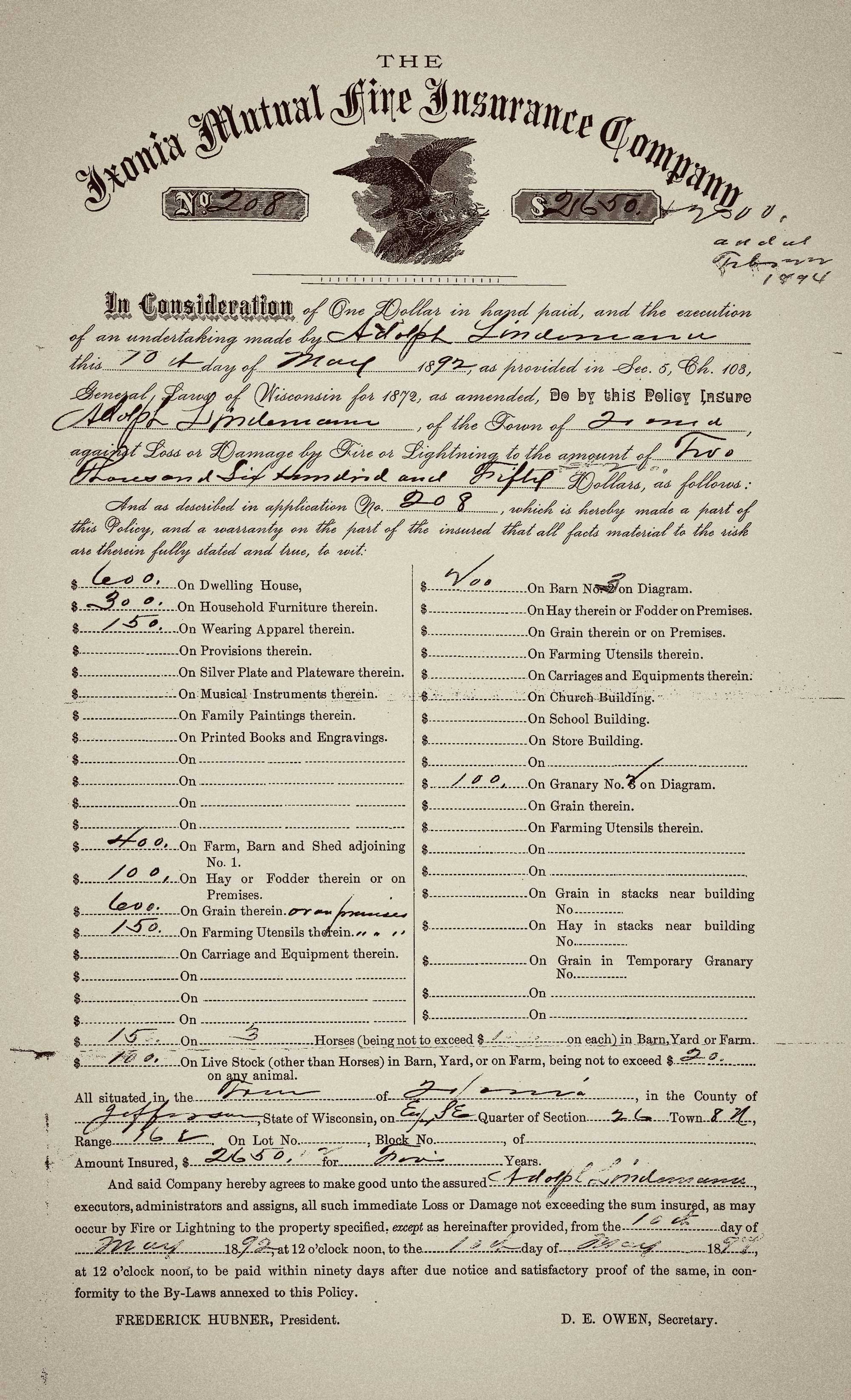 ---
Read more!
Comparing the Capitalizing of Two Early Mutuals
Supporting Dairy in the Late 1800s
1879 Early Challenges for a Young Mutual
Ixonia Mutual's First $1000 Loss
1885 A Year of Neighbor Helping Neighbor
Taxes, War and the English Language
Supporting the Community's Fire Protection
Board Directors and Their Meetings
Standardization of Wisconsin Mutuals
Of Electricity, Radio and Foxes
Our Annual Meetings Over the Years
How a Major Disaster Affected Extended Coverage and Reinsurance
Surviving the Big Dogs in the 1960s
Introducing Agents to the Mutuals
Establishing Confidence in Financial Strength
The 1990s, Advancement and Angst
Ixonia Mutual and Watertown Mutual Merge and a New Company is Formed
Setting the Stage, Moving Forward with a New 2020 Vision