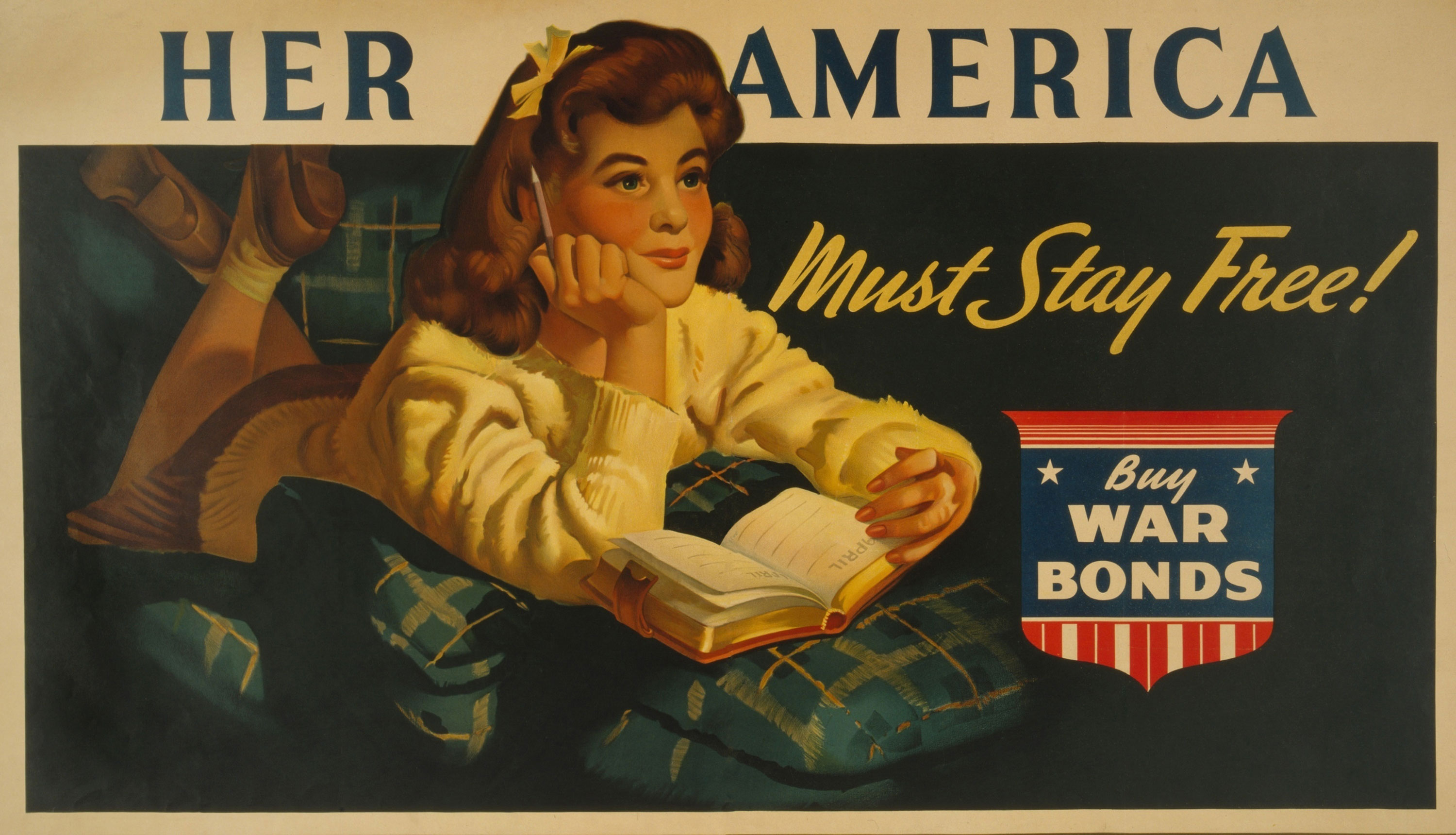 American WW2 poster. 'Her America must stay free! Buy war bonds,' ca. 1943. Used with permission, Shutterstock
By HOWARD WIEDENHOEFT
Throughout their operations, Ixonia Mutual Insurance Company and Watertown Mutual Insurance Company steadfastly served the small town communities of southeastern Wisconsin. However, "small town" is not to say they operated in a bubble of oblivion to rest of the world. Both mutuals maintained a keen awareness of national and international affairs and proactively sought to protect their policyholders as best they could.
In the 1930-1940s, as Americans watched the disintegration of European stability, both Ixonia Mutual and Watertown Mutual carefully managed their organizations. We have record of this in their company minutes, although interestingly, each covered these tumultuous times in different ways.
Between 1934 and 1966, the secretaries of Ixonia Mutual chose to keep minimal records, noting only election results for the board of directors and officers; the amount of assessments leveed, if any; and the year-end bookkeeping. Only on a rare occasion did the secretary record anything additional and only small pieces of information can be gathered from the treasurer's books.
Thankfully for our research purposes, Watertown Mutual was more detailed in its recordkeeping. Now written in English (they were written in German during the company's early years), the minutes give good insight to a mutual's operation during this era.
According to Watertown Mutual's minutes, a special meeting was called on January 17, 1938, by Secretary E.F. Neumann. He called this meeting to advise the board that "the mutual had to pay 1% of the earnings of the 6 directors that were below 65 years into the social security fund at Washington." This amounted to $10.52 for 1937. One might wonder what Neumann's opinion was for the social security law?
On June 8, 1942, Watertown Mutual again recorded minutes indicative of the times:
"The secretary read a communication from the War Damage Insurance Corporation of Washington DC offering this company the participation in fire losses occurring through enemy war machines or through our own fighting of enemy attack under their own set up conditions. After the board discussed the proposition it was decided to defer acceptance of the proposal for the time being! The reason: we are not set up like stock companies! Whence our risks are widely scattered, that in any case of loss from such a condition we could take care of it and would."
During these years, both Ixonia Mutual and Watertown Mutual make record of purchasing World War II bonds. Later, in 1953, Watertown Mutual would once again invest in bonds—three $5,000 B. C Ziegler bonds at 3.5% interest for five years.
It's interesting to see how world events affected the operations of two relatively small insurance companies. It's also reassuring to know our founders were careful managers of their companies. These are traditions Forward Mutual carries on today.
---
Read more!
Comparing the Capitalizing of Two Early Mutuals
Supporting Dairy in the Late 1800s
1879 Early Challenges for a Young Mutual
Ixonia Mutual's First $1000 Loss
1885 A Year of Neighbor Helping Neighbor
Taxes, War and the English Language
Supporting the Community's Fire Protection
Board Directors and Their Meetings
Standardization of Wisconsin Mutuals
Of Electricity, Radio and Foxes
Our Annual Meetings Over the Years
How a Major Disaster Affected Extended Coverage and Reinsurance
Surviving the Big Dogs in the 1960s
Introducing Agents to the Mutuals
Establishing Confidence in Financial Strength
The 1990s, Advancement and Angst
Ixonia Mutual and Watertown Mutual Merge and a New Company is Formed
Setting the Stage, Moving Forward with a New 2020 Vision