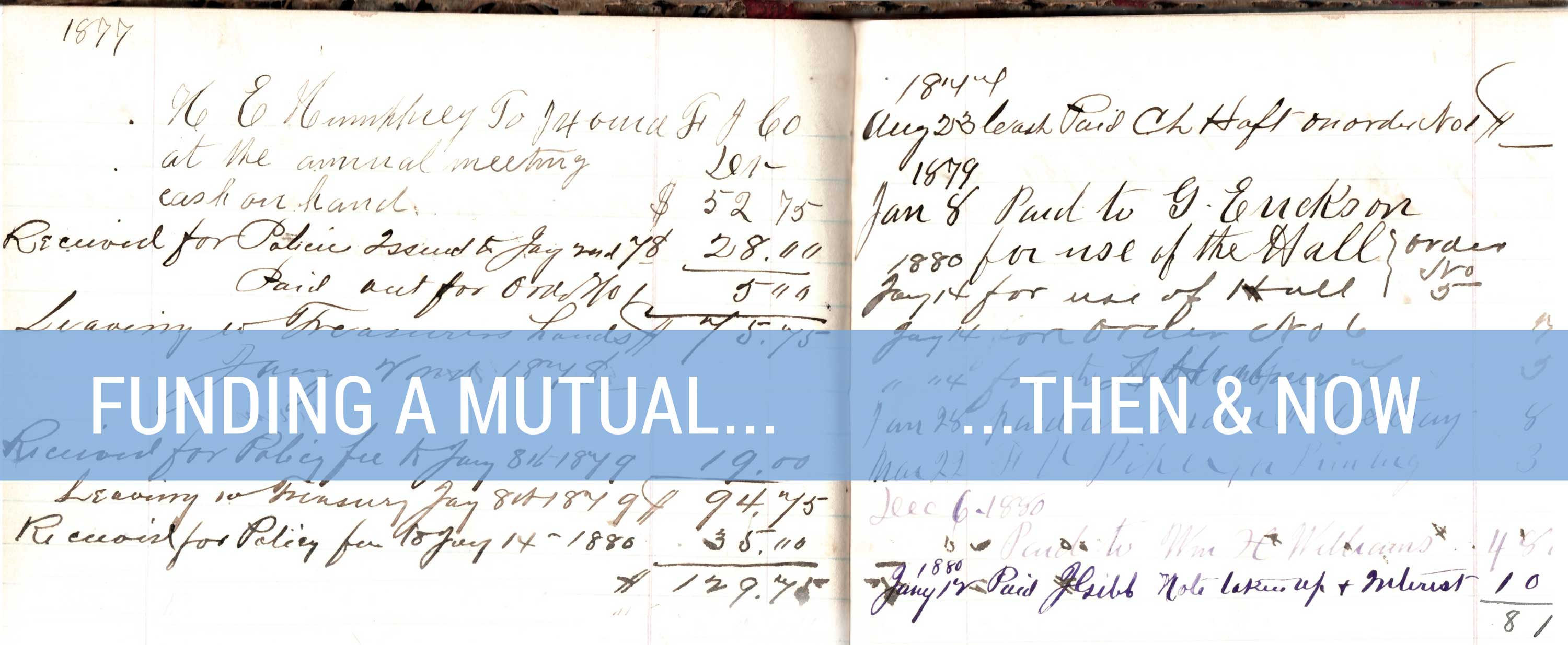 By HOWARD WIEDENHOEFT
Mutual companies need capital to meet the challenges of operating a business and offering insurance. Historically, mutual companies have managed a financial security that allows them to focus on all of their policyholders rather than a few select stockholders. Let's learn how how our founding mutuals—Ixonia Mutual Fire Insurance Company and Watertown Mutual Fire Insurance Company— capitalized their companies in the late 1800s.
In their early days, having capital or assets was not important for the two mutuals. Both kept their treasury at a minimum and charged a simple policy fee, 75 cents and 50 cents respectively. It's assumed that Ixonia Mutual's policy fee was compensation to the secretary for his work, as no record of it was recorded in the company's books.
Additionally, Ixonia Mutual charged a one-time one dollar membership fee. Watertown Mutual charged a policy premium rate per thousand on insurance. There were different rates based on the distance between buildings and/or the type of building. The policy premium and policy fee were for the life of the policy, which was five years. These fees were charged to cover the cost of running the mutuals.
Paying Claims
When a loss occurred, both Ixonia Mutual and Watertown Mutual paid claims to the property owner by way of "post assessment." This means, after the occurrence the mutual charged all the policyholders at rate per thousand of the property owner's insurance to cover his loss. Imagine paying no policy premiums! But also imagine the difficulty of coming up with money on the spot to pay for a neighbor's loss. This post assessment means of coverage was doable because the only perils the mutuals insured were fire and lightening.
In 1878, the annual reports of each mutual presented very different amounts of capital. Watertown Mutual had $2,082, while Ixonia Mutual had $76.
Comparing the records of these two mutuals is interesting. The early records of Watertown Mutual are written in German and included only minutes of annual meetings. There are no minutes of board meetings or a treasurer's book. Ixonia Mutual, on the other hand, preserved minutes of annual meetings and any other meeting the board held, including approval of losses and meetings to levee an assessment. The company also preserved its treasurer's book.
Industry Changes
In the 1940s, the mutual insurance industry began to change and Ixonia Mutual and Watertown Mutual followed right along. Both mutuals began offering coverage for supplemental perils, hail, theft, and vandalism (however, coverage for wind damage did not come until later). With these additional coverages came increased costs and the mutuals began charging their policyholders by way of an annual assessment; that is, they charged in advance for the claims they could expect for that upcoming year. The mutuals set the policy rates to cover losses and expenses and 1-2% profit on an average claim year.  If they had a below average claim year, the money not used was added to their assets/capital. These assets/capital generated interest income which was then used to pay losses on an above averaged claim year or added to their capital on average or below average claim year. This method of management stabilized the policyholder's costs from year to year.
These days Forward Mutual builds its capital by way of advance premiums. While similar to an annual assessment, it's a practice that provides greater financial security to cover the variety of losses today's property owners face. More on that to come.
Mutual insurance today is certainly more complex than it was 150 years ago. Yet Forward Mutual is proud to maintain an ever-strengthening financial security and continues to provide for its policyholders.
---
Read more!
Comparing the Capitalizing of Two Early Mutuals
Supporting Dairy in the Late 1800s
1879 Early Challenges for a Young Mutual
Ixonia Mutual's First $1000 Loss
1885 A Year of Neighbor Helping Neighbor
Taxes, War and the English Language
Supporting the Community's Fire Protection
Board Directors and Their Meetings
Standardization of Wisconsin Mutuals
Of Electricity, Radio and Foxes
Our Annual Meetings Over the Years
How a Major Disaster Affected Extended Coverage and Reinsurance
Surviving the Big Dogs in the 1960s
Introducing Agents to the Mutuals
Establishing Confidence in Financial Strength
The 1990s, Advancement and Angst
Ixonia Mutual and Watertown Mutual Merge and a New Company is Formed
Setting the Stage, Moving Forward with a New 2020 Vision