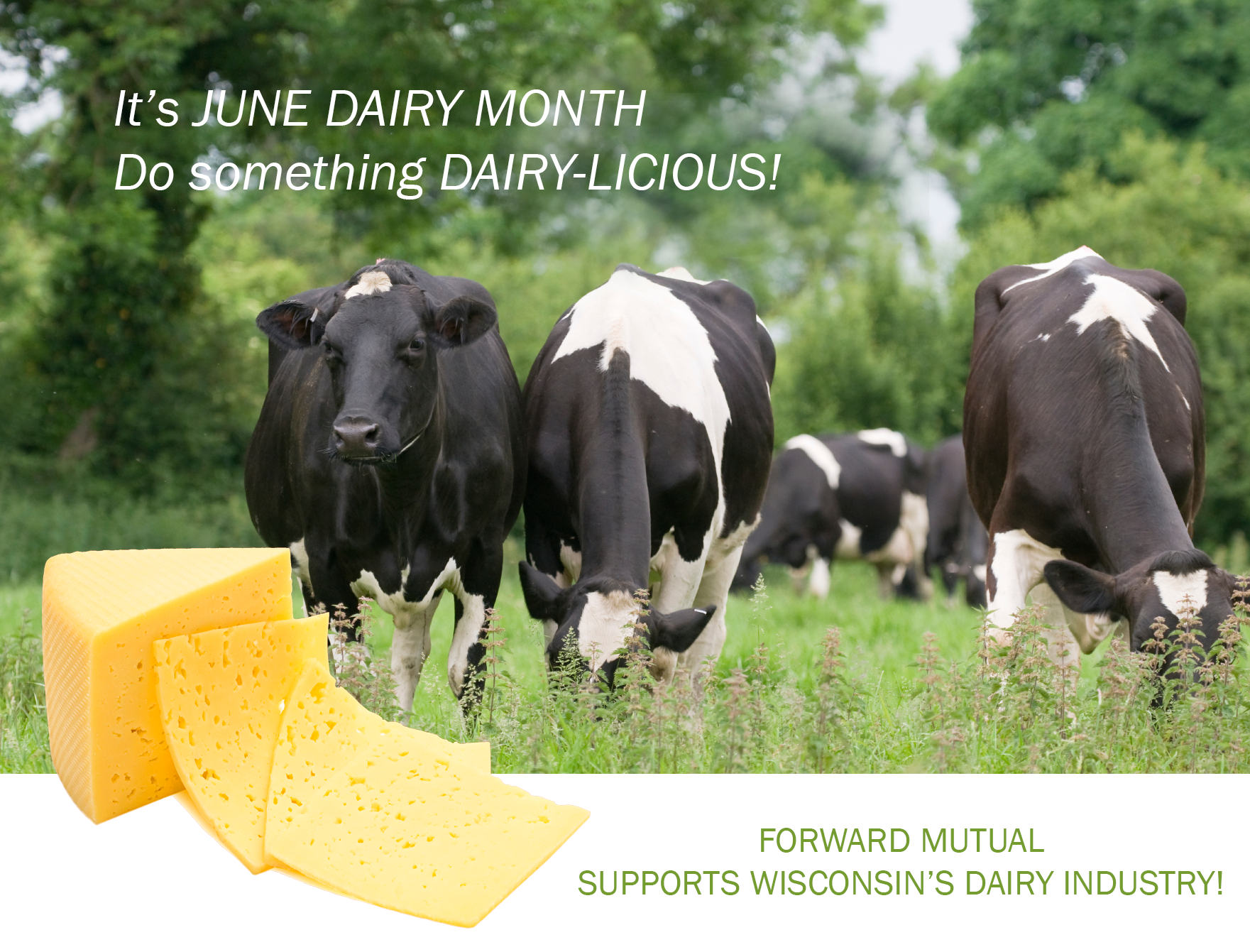 June is Dairy Month and to quote June the Cow, "You haven't experienced summer in Wisconsin until you've had breakfast on a farm!" Forward Mutual agrees and each year is proud to support the Watertown Agri-Business Dairy Breakfast. This year's breakfast will be held June 18-19 at the Mike and Anna Gudenkauf Farm. Join the fun!
Not in the Watertown area? Below is a list of tasty farm breakfasts in our operating territory. And if you're further still, here's a list of breakfasts throughout Wisconsin.
Get out and celebrate June Dairy Month!
Columbia County Moo-Day Brunch
June 18, 2016
Columbia County
Saturday, June 18, 2016; 9:00 AM – 1:00 PM
Dane County Breakfast on the Farm
June 11, 2016
Dane County
Saturday, June 11, 2016; 7:00 AM – 11:30 AM
Dodge County Dairy Brunch
June 26, 2016
Dodge County
Sunday, June 26, 2016; 9:00 AM – 12:30 PM
Fond du Lac County, Ripon FFA Alumni 29th Annual Country Breakfast
June 19, 2016
Fond du Lac County
Sunday, June 19, 2016; 9:00 AM – 1:00 PM
Green County Breakfast on the Farm
May 28, 2016
Green County
Saturday, May 28, 2016; 6:00 AM – 10:00 AM
Iowa County Dairy Breakfast
June 4, 2016
Iowa County
Saturday, June 4, 2016; 6:30 AM – 10:30 AM
Jefferson County Dairy Breakfast
May 21, 2016
Jefferson County
Saturday, May 21, 2016; 6:00 AM – 11:00 AM
Jefferson County, Watertown Agri-Business Dairy Breakfast
June 18-19, 2016
Watertown, Jefferson County
Saturday and Sunday, 7:00 AM – 1:00 PM
Lafayette County Dairy Breakfast
June 11, 2016
Lafayette County
Saturday, June 11, 2016; 6:30 AM – 10:30 AM
Rock County Dairy Breakfast
June 11, 2016
Rock County
Saturday, June 11, 2016; 6:30 AM – 11:00 AM
Sauk County Dairy Breakfast on the Farm
June 11, 2016
Sauk County
Saturday, June 11, 2016; 7:00 AM – 11:00 AM
Sheboygan County Breakfast on the Farm
June 18, 2016
Sheboygan County
Saturday, June 18, 2016; 7:00 AM – 12:00 PM
Walworth County Farm Bureau Dairy Breakfast, 40th Annual
June 18, 2016
Walworth County
Saturday, June 18, 2016; 6:00 AM – 12:00 PM
Washington County Breakfast on the Farm
June 11, 2016
Washington County
Saturday, June 11, 2016; 6:30 AM – 11:30 AM