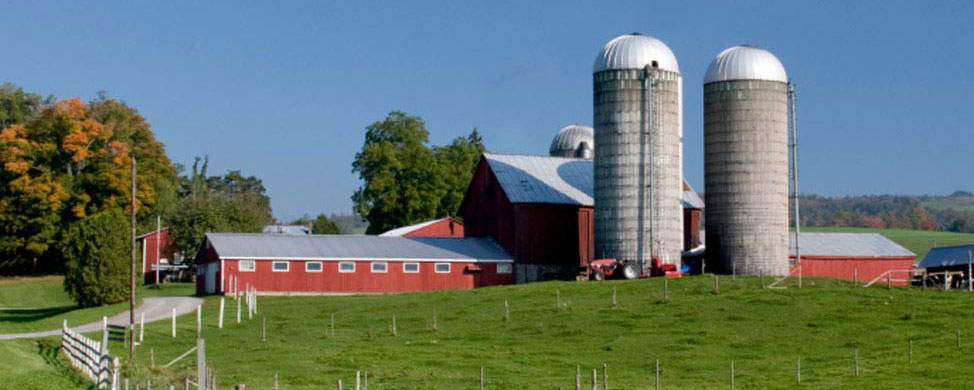 Farm Insurance
Like you, farming is in our heritage. We understand the risks you face to cultivate crops and raise livestock. Your farming business has changed over the years. So has our farm insurance. Our flexible farm policies are customized to fit your farm operation. Plus we've added Identity Theft Protection at no charge to our Farm-Guard® policy. But not everything has changed. You're still dedicated to the land, and we're still dedicated to you.
It's all part of our Personal Attention…Peace of Mind.
---
---
Farm Property Coverage
Years ago, the barn represented the center and livelihood of a family farm. Farming operations have changed since then, but your investment in farm buildings, property, and livestock continues. That's why we offer farm property insurance. It's called the FarMate® policy because it's flexible to match your needs and provide coverage for the family farm operation, the small hobby farmer, or the large corporate or partnership farming operation. Coverages protect your home and household property as well as your farm buildings and farm personal property.
FarMate Property Coverages
Dwelling
Household personal property
Additional living expense/loss of rents
Farm buildings
Scheduled and unscheduled farm personal property
Optional coverages
Additional Coverages
Debris Removal
Emergency removal of a property
Necessary repairs after a loss
Construction of new buildings
Fire department charges
Farm implements coverage due to building collapse
Inland marine
Equipment breakdown
Optional Coverages
Comprehensive machinery coverage
Farm extra expense
Glass breakage—farm machinery
Leased or rented farm equipment and machinery
Loss of farm earnings
Outside storage
Peak season
Pollution clean up and removal
Spoilage—Perishable farm personal property
Unmanned Aircraft System* (drone) coverage for precision agricultural operations (e.g. monitoring crops and livestock)
Contact your local agent for your farm owner insurance quote today and ask if your farm qualifies for a discount.
---
Farm Liability Coverage
You like your independence and your freedom. That's why you choose to make your living on the farm.  Forward Mutual admires your choice. That's why we chose to stand beside you, to help protect you and your loved ones from financial exposure.  Our Farm-Guard® policy has been protecting farmers like you for more than 30 years and can be packaged with our FarMate® policy. Farm-Guard is there to protect you should an accident, injuries, or claims of negligence arise as a result of your farming operations.
Farm-Guard Liability Coverage
Bodily injury and property damage
Public liability
Employers' liability
Medical payments
Pollution coverage
Premium Discounts
Owner occupied farm
Non-occupied farm
Country home discount
Livestock exclusion
Optional Coverages
Agricultural excavation and tilling
Agricultural unmanned aircraft systems
Business activities
Contractual liability
Custom farming
Custom feeding
Custom manure contractors
Horse boarding
Hunting and fishing
Residential rental property
Seed sales
Ask about our identity protection and restoration coverage, available at no charge on home and farm. Contact your local agent today to learn more about protecting your farm or get a personalized quote.
---
Farm Equipment Breakdown
The techonology you use on your farm continuously increases in sophistication and value. Unfortunately, so do the risks. Here's where equipment breakdown coverage helps. With equipment breakdown coverage you'll have access to specialists who will find services for the fast repair or replacement of your critical equipment. You'll appreciate the security, convenience, and peace of mind of our equipment breakdown coverage.
For more information, check out Forward Mutual's Equipment Breakdown Coverage.